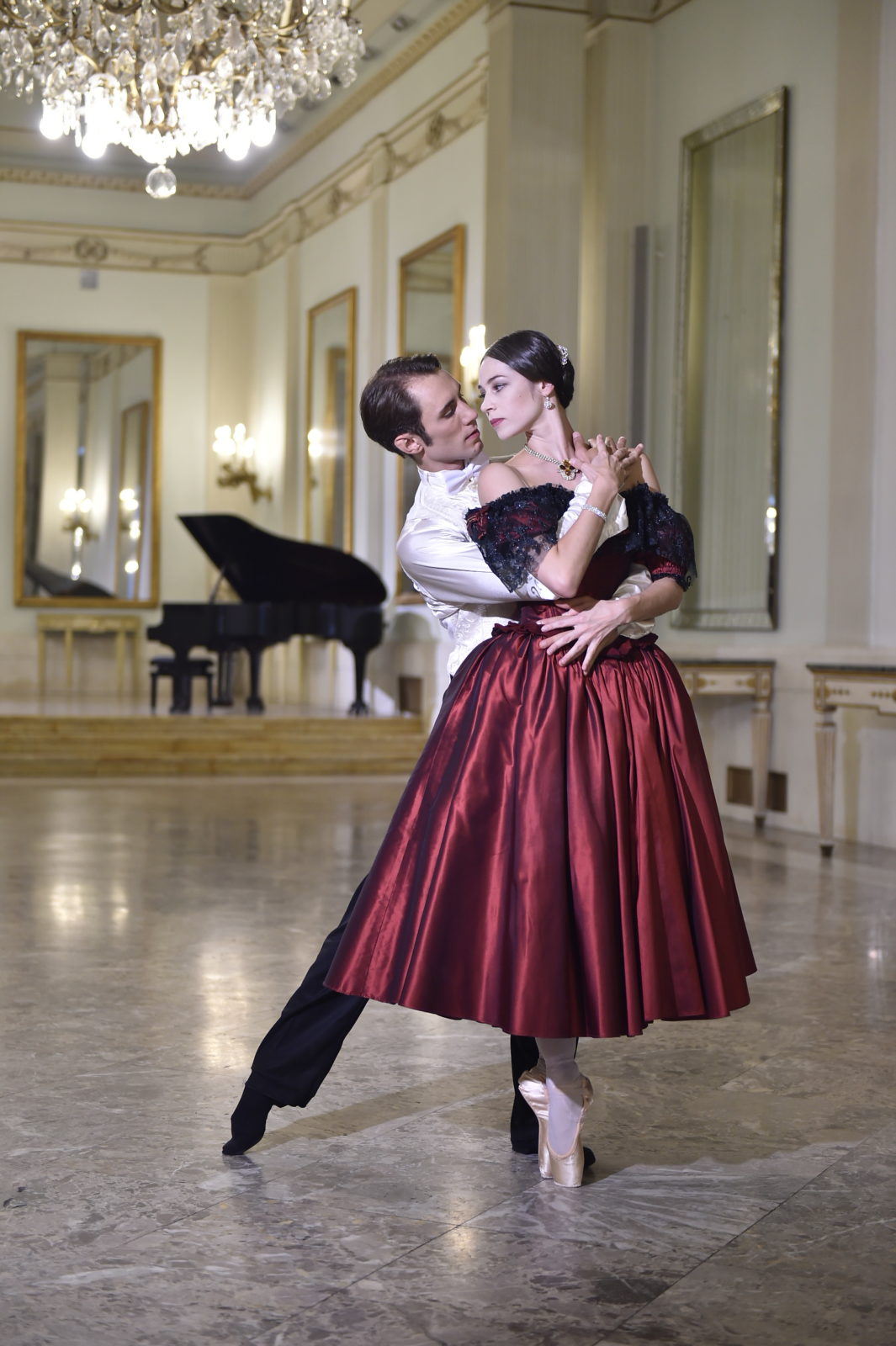 06 Set

Teatro San Carlo: La Signora delle camelie di Derek Deane, prima nazionale

È sempre acceso, nell'universo delle arti, l'amore che lega Marguerite ad Armand: gli infelici protagonisti del romanzo "La Dame aux Camélias" – di Dumas figlio – continuano a ispirare adattamenti dalla straordinaria potenza comunicativa. E vivranno ancora al Teatro di San Carlo, nell'ultimo appuntamento della Stagione di Danza 2017/18.

Dal 15 al 22 settembre, il Massimo napoletano ospiterà in prima nazionale la nuova trasposizione per balletto de "La Signora delle Camelie", realizzata su musiche originali di Carl Davis e coreografia di Derek Deane. Nicola Giuliani dirigerà l'Orchestra Giovanile Luigi Cherubini.

Marguerite avrà i volti di Maria Yakovleva, Prima Ballerina dello Staatsballet di Vienna, Anna Chiara Amirante e Claudia D'Antonio. Saranno Armand, invece, Istvàn Simon, Primo Ballerino del Dortmund Ballett, Alessandro Staiano e Stanislao Capissi. Con loro il Corpo di Ballo del Teatro di San Carlo.

E' un racconto che ha l'amaro sapore della realtà: il soggetto del romanzo trae il suo intreccio dalla vita dell'autore, dal legame che unì lo stesso Dumas alla cortigiana Marie Duplessis. Qui ne risiede il fascino, l'immensa forza. "è una vicenda vera, disincantata, lontana dall'atmosfera fiabesca dei grandi classici", afferma Deane, impegnato in questi giorni nelle prove dello spettacolo. "Anche il legame con il compositore Carl Davis è fortissimo. La coreografia deve essere vissuta attraverso la musica, in un risultato dal forte potere evocativo".

 Stagione d'Opera e Danza 2017/18

In prima nazionale

LA SIGNORA DELLE CAMELIE (LA DAME AUX CAMÉLIAS)

Balletto in due atti

Musica | Carl Davis
Coreografia | Derek Deane
Direttore | Nicola Giuliani

Interpreti
Margarite, Maria Yakovleva (Prima Ballerina Wiener Staatsballet), Anna Chiara Amirante, Claudia D'Antonio

Armand, Alessandro Staiano, Istvàn Simon (Principal Dancer Dortmund Ballett),
Stanislao Capissi

Orchestra Giovanile Luigi Cherubini
Corpo di Ballo del Teatro di San Carlo

Teatro di San Carlo
Sabato 15 Settembre 2018,  ore 20.00 – Turno A
Domenica 16 Settembre 2018, ore 17.00 – Turno F
Martedì 18 Settembre 2018, ore 20.00 Turno C/D
Giovedì 20 Settembre 2018, ore 18.00 – Turno B
Venerdì 21 Settembre 2018, ore 20.00 – Abbonamento Danza / Turno M Opera e Balletto
Sabato 22 Settembre 2018, ore 18.00 – Fuori Abbonamento

Biglietti a partire da 15 euro

Gli interpreti

Maria Yakovleva|Nata in Russia, a San Pietroburgo, si diploma all'Accademia Vaganova nel 2004. Subito dopo entra a far parte della compagnia del Teatro Mariinskij dove le vengono affidati tutti i principali ruoli da solista del repertorio classico. Nel 2005 è scritturata come solista dal Ballettder Wiener Staatsoper e dalla Volksoper nel 2010. Il suo repertorio include ruoli da protagonista e da prima ballerina sia nel repertorio classico che nei lavori di coreografi che spaziano da Cranko e Balanchine a Robbins e Kylián, da Neumeier a Forsythe. Si è esibita come ospite in molti dei principali teatri europei e internazionali tra cui ricordiamo: Opéra National de Paris, National Ballet of China, Teatro dell'Opera di Roma, Teatro Massimo di Palermo, The Israel Ballet. È stata nominata per il Prix Benois de la Danse per la sua interpretazione di Rubies di George Balanchine nel 2011.

Istvàn Simon|Ungherese, ha iniziato il suo percorso nel mondo della danza quasi per caso. Da giovanissimo, infatti, Simon desiderava dedicarsi al karate a livello agonistico, ma un'aritmia lo ha costretto ad abbandonare questa pratica "virando" verso la Danza. Dopo il diploma, presso la Hungarian Dance Art University, nel 2008, entra come solista nel Corpo di Ballo della Semperoper di Dresda di cui diverrà Principal Dancer fino al marzo 2018. Sarà impegnato nel medesimo ruolo, tra il 2013 e il 2015,anche con l'Hungarian National Ballet. Attualmente, Simon è Principal Dancerpresso il Dortmund Ballett. Durante la sua carriera, si è esibito come International Guest Artist in alcuni tra i più prestigiosi teatri del mondo tra cui Opéra National de Paris, Moscow Kremlin Theatre, New York City Center, Tokyo Saitama Theater, GrandTeatre delLiceu, Hungarian National Opera, Finnish National Opera e Festspielhaus St. Pölten. Ha vinto la Medaglia d'Oro nelle competizioni internazionali di danza di Helsinki (2005), Brno (2003) e St. Pölten (2002) e, nel 2004 è stato finalista del Prix de Lausanne – Concours International pour Jeunes Danseures.

Orchestra Giovanile Luigi Cherubini | Fondata da Riccardo Muti nel 2004, l'Orchestra Giovanile Luigi Cherubini è formata da giovani strumentisti under 30 provenienti da ogni regione italiana, scelti con audizioni da una commissione costituita dalle prime parti di prestigiose orchestre europee e presieduta dallo stesso Muti. Secondo uno spirito che imprime alla Cherubini la dinamicità di un continuo rinnovamento, i musicisti restano in orchestra per un solo triennio, terminato il quale si avviano verso prestigiose carriere in tutto il Mondo. In questi anni l'Orchestra, sotto la direzione di Riccardo Muti, si è cimentata con un repertorio che spazia dal Barocco al Novecento alternando ai concerti in moltissime città italiane importanti tournée internazionali nel corso delle quali è stata protagonista, tra gli altri, nei teatri di Vienna, Parigi, Mosca, Salisburgo, Colonia, San Pietroburgo, Madrid, Barcellona, Lugano, Muscat, Manama, Abu Dhabi, Buenos Aires e Tokyo. All'intensa attività con il suo fondatore, la Cherubini ha affiancato moltissime collaborazioni con artisti quali Claudio Abbado, John Axelrod, Rudolf Barshai, Michele Campanella, James Conlon, Dennis Russel Davies, Gérard Depardieu, Kevin Farrell, Patrick Fournillier, Herbie Hancock, Leonidas Kavakos, Lang Lang, Ute Lemper, Alexander Lonquich, Wayne Marshall, Kurt Masur, Anne-Sophie Mutter, Kent Nagano, Krzyszt of Penderecki, Donato Renzetti, Vadim Repin, Giovanni Sollima, Yuri Temirkanov, Alexander Toradze e Pinchas Zukerman. Da 2010, la Cherubini è impegnata nel progetto "Le vie dell'amicizia" che l'ha vista esibirsi, tra le altre mete, a Nairobi, Redipuglia, Tokyo e, nel 2017, a Teheran, sempre diretta da Riccardo Muti.