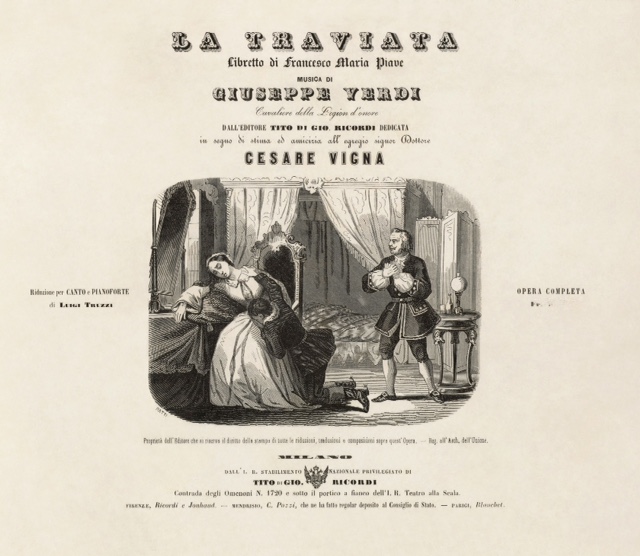 22 Apr

La Traviata a Rovereto con la partecipazione degli allievi del Liceo Coreutico Suor Orsola Benincasa di Napoli

Dopo il grande successo del 2016, torna a Rovereto il festival lirico Progetto Opera che, giunto ormai alla sua quinta edizione, sarà dedicato quest'anno a "La Traviata" di Giuseppe Verdi.

Promosso dall'Associazione Culturale Euritmus, fondata nel 2006 dal Trio d'archi Broz, composto dai fratelli roveretani Barbara (violino), Giada (violino e viola) e Klaus (violoncello) Broz, in collaborazione con le Associazioni Spagnolli-Bazzoni Onlus e Anthropos di Rovereto, l'Accademia della Belle Arti di Verona e l'Università Suor Orsola Benincasa di Napoli, il Festival inizierà mercoledì 26 aprile e si concluderà domenica 30 aprile.

"Progetto Opera – spiega il direttore artistico Klaus Broz – trasforma Rovereto in un crocevia dove giovani artisti di tutto il mondo possono dialogare e confrontarsi attraverso la musica con un pubblico altrettanto giovane e se pensiamo all'Opera, non convenzionale. Insomma, la nostra sfida sta nell'offrire ai ragazzi residenti sul territorio proposte alternative, caratterizzate da eventi di grande qualità musicale, ma anche momenti di approfondimento storico e culturale, per conoscere le tradizioni dei diversi popoli europei".

A Rovereto le vivaci atmosfere della Belle Époque

La quinta edizione di Progetto Opera si sviluppa intorno a "La Traviata" che, scritta da Giuseppe Verdi nel 1853, è ad oggi l'opera lirica più rappresentata al mondo. Ispirata al romanzo "La signora delle camelie" di Alexandre Dumas figlio, la pièce, divisa in tre atti, narra la struggente storia d'amore tra la cortigiana Violetta e il giovane borghese Alfredo, trasportando il pubblico nella Parigi del diciannovesimo secolo, in una magistrale fusione tra l'emozione di un sentimento senza tempo e la bellissima contestualizzazione storica. Tra la seconda metà dell'Ottocento e l'inizio della Prima Guerra Mondiale l'Europa visse infatti un periodo di relativa stabilità politica e sociale, caratterizzato da un gran fermento tecnologico ed economico: in pochi anni il commercio internazionale raddoppiò, mentre la costruzione di nuove ferrovie permetteva di spostarsi rapidamente in tutto il continente e le arti conoscevano un periodo di crescita e forte sperimentazione, sapientemente ricostruiti dalle note de "La Traviata".

Apertura in rosa, patrocinata dal Ministero dei Beni e delle Attività Culturali italiano e dalla Casa reale di Giordania

Il Festival ha ottenuto quest'anno il patrocinio del Ministero dei Beni e delle Attività Culturali italiano, avviando al contempo un'importante collaborazione internazionale con il Regno di Giordania. "La Traviata", in scena a Rovereto il 29 aprile, verrà infatti riproposta tra il 19 e il 22 luglio al Teatro romano di Hamman alla presenza di Re Abdallah II, per il tramite dell'Associazione Culturale Euritmus. Mai fino ad ora un'opera lirica era stata messa in scena in tale cornice. Per suggellare il ruolo della musica come veicolo di pace e dialogo interculturale e interreligioso, la principessa madre della Casa Reale di Giordania Muna al – Hussein ha deciso di patrocinare il concerto di apertura del Festival Progetto Opera, che si terrà mercoledì 26 aprile alla Sala Filarmonica alle 20.45. Il concerto mira a ricreare, attraverso un repertorio sinfonico che va da Bizet a Berlioz, passando per Debussy e Offenbach con il suo celebre Can Can, l'atmosfera ottimista e progressista che si respirava in Francia durante la belle époque. Il concerto, diretto da Silvia Mazzarelli, vedrà la partecipazione dell'Orchestra delle Alpi e della soprano giordana Zeina Barhoum. Sarà presente all'evento una delegazione ministeriale in rappresentanza del Regno di Giordania.

Il 28 aprile alle 20.45 sempre alla Filarmonica, si terrà il recital pianistico "Clair de lune", con Valentina Fornari e Alberto Nosè, vincitore di alcuni tra i più prestigiosi riconoscimenti internazionali come il "Top of the World International Piano Competition" di Tromsø (Norvegia) e il concorso di Marsiglia, a cui possono accedere solo i pianisti che abbiano già vinto una competizione internazionale.

La Traviata allo Zandonai

Sabato 29 aprile alle 20.45 il Teatro Zandonai ospiterà la prima de "La Traviata", diretta dal maestro Lorenzo Tazzieri, con la regia di Luigi Orfeo, le scene di Caterina Pinelli e i costumi di Giorgio Bagnoli. Particolare attenzione è stata data durante l'allestimento agli intrecci cromatici tra luci e fari che valorizzano la tensione musicale e letteraria offerta dal libretto e permettono allo spettatore di immergersi nelle vivide atmosfere create dal genio verdiano.

L'opera verrà riproposta in replica pomeridiana domenica 30 aprile alle 17.

I gruppi classe potranno invece assistere alla pièce in anteprima sabato 29 a partire dalle 10.30.

Le tre chiavi del festival: volontariato, giovani e professionalizzazione

Progetto Opera non potrebbe esistere senza il supporto dei tanti giovani che, a livello volontaristico, contribuiscono alla buona riuscita dell'evento e fissano in 26 anni l'età media dei partecipanti. La collaborazione con alcuni prestigiosi istituti di formazione d'eccellenza, come l'Accademia delle Belle Arti di Verona e l'Università Suor Orsola Benincasa di Napoli, permette inoltre a coloro che stanno studiando da costumisti, attrezzisti, cantanti lirici e ballerini di inserire nel proprio curriculum un'importante esperienza professionalizzante. Avvicinare i giovani alla lirica dunque, ma dal lato attivo del palcoscenico anziché da quello passivo della platea: in quest'ottica Progetto Opera propone, per la prima volta quest'anno, un percorso riservato agli studenti delle scuole medie e superiori di Rovereto. Si partirà il 21 aprile con "Ti racconto la Traviata!", una lezione-concerto durante la quale il libretto verrà sviscerato come se fosse una prosa, ma con esilaranti intermezzi cantati. Il 27 aprile alle 10.30 allo Zandonai invece "Ragazzi, all'Opera!" segnerà il coronamento di un percorso didattico iniziato nel 2016, che porterà oltre duecento bambini e ragazzi a essere al contempo spettatori e protagonisti di una versione ridotta de "La Traviata", durante la quale loro stessi prenderanno le parti del coro lirico, intonando arie come "il Brindisi" o "il Coro delle Zingarelle".

"L'associazionismo è un elemento essenziale del sistema sociale trentino – spiega Broz – pertanto coinvolgere i ragazzi nel festival, significa dare continuità alle realtà già esistenti e infondere nuova linfa nel circuito culturale provinciale".

Guida all'Opera e all'Ottocento

L'opera è una forma d'arte estremamente affascinante, ma non sempre d'immediata comprensione. Per facilitare il coinvolgimento di un pubblico più ampio, il Festival propone dunque anche quest'anno una serie di eventi paralleli. Giovedì 27 aprile, a partire dalle 17 a Palazzo Caritro, in piazza Rosmini 5, la critica musicale Federica Fanizza illustrerà le peculiarità strutturali e formali de "La Traviata", nella guida all'ascolto intitolata "Amami Alfredo!". Durante l'evento sarà possibile incontrare dal vivo i cantanti che si esibiranno sabato. Il 28 aprile sempre alle 17 partirà invece il tour guidato "Alla scoperta di Rovereto", per ammirare i gioielli nascosti di quella che, nell'Ottocento, era una delle più importanti città del Tirolo asburgico.

Sabato 29 aprile alle 10 al Museo della Guerra verrà inaugurato il tour "Le armi dell'Ottocento". Alle 11, si terrà la conferenza "Società e passione", durante la quale gli esperti dell'associazione Anthropos illustreranno lo sviluppo dei nazionalismi e le tensioni sovranazionali che portarono allo scoppio della Grande Guerra. La conferenza si concluderà con una degustazione di birre artigianali presso il birrificio Gocce di Malto.

Il Liceo coreutico Suor Orsola Benincasa di Napoli offre ai propri alunni un'alternanza scuola-lavoro al di sopra delle righe. Nelle difficoltà comuni a tutte le Istituzioni scolastiche per l'organizzazione di un percorso ministeriale obbligatorio che, purtroppo, non trova sempre l'ambito di applicazione corretto e più consono ai rispettivi indirizzi di studio, il Liceo coreutico SOB darà l'opportunità a otto alunni selezionati di partecipare come corpo di ballo all'opera La Traviata di Giuseppe Verdi, in scena nello splendido Teatro Zandonai di Rovereto per la regia di Luigi Orfeo, con l'Orchestra delle Alpi diretta dal Maestro Lorenzo Tazzieri. La produzione si inserisce nel "Progetto Opera Rovereto 2017" curata dall'Associazione culturale "Euritmus", per la direzione artistica del professor Klaus Broz. Il festival si svolgerà dal 27 aprile 2017 al 1 maggio 2017. Sono previsti uno spettacolo d'apertura, una guida all'ascolto, un esposizione, due giri turistici /visite guidate, tre serate d'opera, un  recital pianistico, un conferenza, tre eventi per i giovani. La Traviata andrà in scena il 29 e 30 aprile con gli alunni Simona Aprea, Elisa Cuomo, Marika Morra, Elena Sofia Petti, Annalisa Senesi, Andrea Serrao, Margherita Uttieri, Vincenzo Varchetta. Solisti i docenti di indirizzo Alessandro Amoroso, Monica De Benedetta, Viviana Petrone per le coreografie di Andrea Doria. Responsabile del progetto per il Suor Orsola Benincasa la professoressa Maria Venuso, in partnership con la rivista online di opera lirica e balletto Gbopera Magazine.